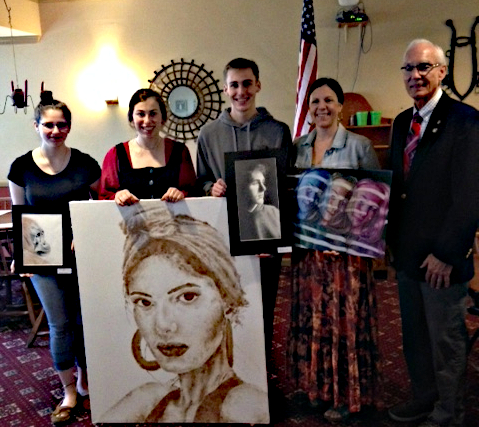 The 24th annual Tri-County Art Show presented by the Twin Valley Rotary Club was held at The Church of Saint Benedict Catholic Church in Mohnton on April 26-28. The Show presented the work of 30 area artists and potters and 20 Twin Valley High School students.
Each year the Twin Valley Rotary Club awards $250 in cash prizes to the top four student entries. This year's student winners were: first place, Rachel Howe, second place, James Newswanger, third place, Nicole Goebel, fourth place, Paige Anderson.
The cash awards and Certificates were presented to the students at the weekly breakfast meeting of the Club on May 8. The students brought their prize winning pieces and explained the process that created the works. Twin Valley High School Superintendent Dr Robert Pleis complimented the art teachers and students on the excellence of the art department and the students art work.
The Club would like to thank the following teachers in the Twin Valley High School Art Department for their efforts in providing the opportunity for the students to display their work: Addy McKerns and Heather McCord.
Additional information about the Show and the Twin Valley Rotary Club is available at www.tricountyartshow.org.
Pictured are: Paige Anderson ,Rachel Howe, James Newswanger, Art Teacher Addy McCerns, Rotarian Ron Moyer